It is still July, but in just a few short months, it will be autumn soon. As you trade your shorts for a pair of thermals, you need to make sure your car is ready to face the change in weather.
Maintaining your car's health is important to avoid accidents. According to nsc.org, motor vehicle-related deaths occur the highest in September. With this in mind, you cannot overlook the importance of fall car maintenance. Pay close attention to season-specific car care. Here are some things that you must do.
1. Check Tires
The number one area of your car that needs checking is the tires. We take tire maintenance for granted, but we should understand how indispensable this component is. Tires could affect your vehicle's braking ability, handling ability, and overall safety.
The first thing you can do is check the tread depth of the tires with the help of a dedicated gauge. Three points across the tires should be checked. These include the outer, center, and inner tread.
2. Check Breaks
Just as important as your tires are the car brakes. You or your mechanic should perform a brake check at least twice a year to make sure they are in good condition. Most road accidents happen because of faulty brakes, and nobody wants to risk that.
If your brake pads are worn out, professionals recommend having them replaced or resurfaced immediately. This is so when it shows a reading of 3mm or less.
3. Test Your Heater
Admit it. You are also just like most drivers who did not turn on the car's heater at all for the whole duration of the summer. And who would do that anyway, right? But once the weather turns cold, you will be thinking of pining for a warm cabin once again.
Before the temperature starts to drop, it is a good idea to test your vehicle's heater. Ensure your heater is not blowing cold air. Otherwise, your car is having problems somewhere within its cooling system.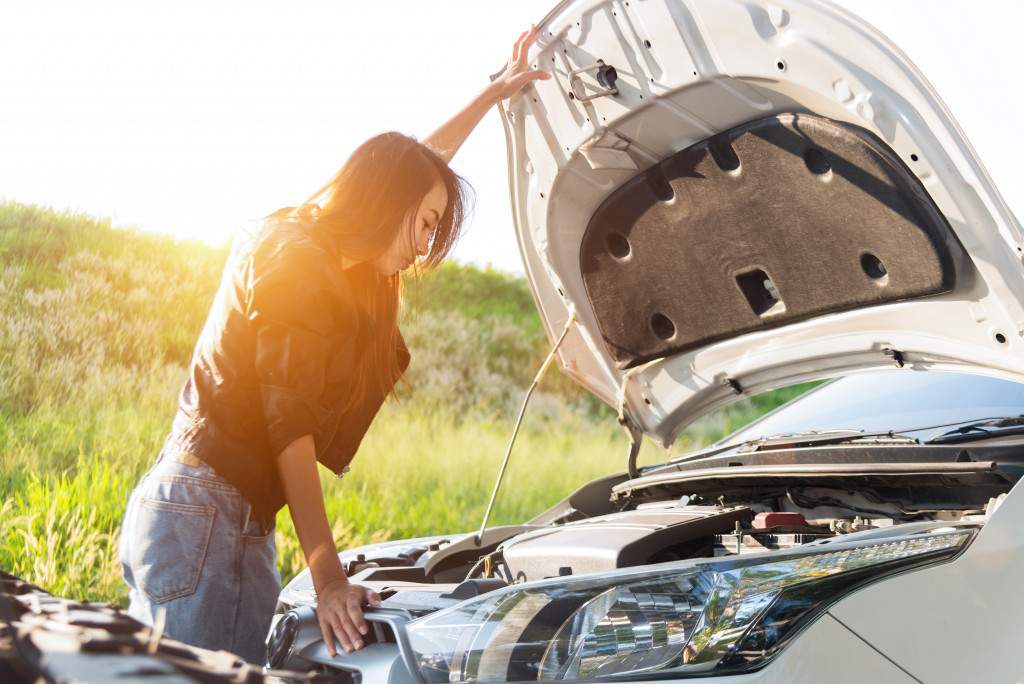 4. Check Your Lights
Since nighttime comes earlier during fall, you will most likely drive down the road when it is dark outside. With that in mind, you need to check and make sure that all of your vehicle's exterior lights are working properly.
When you have a non-functional light, it usually means you have a burnt-out bulb. While replacing your car's light bulb can be done independently, you can easily ask a professional's help if you find it difficult.
5. Check Your Air Filter
Your car's air filter serves as a protection against dust, dirt, and other contaminants in the environment that might get into your engine. With so much air pollution these days, your air filter can become dirty and clogged in no time.
One easy way to check whether your air filter needs replacement is to put it in front of a 60-watt bulb. If you cannot see through the filter, then it means you have to replace it.
6. Check Your Battery
As the weather becomes colder, it is important to have your car's battery checked. The last thing you would want to happen is getting stuck in the middle of nowhere with a dead battery and no cell reception.
Have a car mechanic check your battery for you if it needs replacement. Over time, batteries corrode and have loose cable connections. So, before it is too late, have them checked.
7. Check Your Wiper Blades
When it is fall, it often rains and snows. With that in mind, make sure that the car's wiper blades are in good shape.
You can check your wiper blades by simply turning on both wipers and windshield washers. It should produce a streak-free and clean sweep to see if they are still a good set of blades.
Since the temperature will drop lower and lower, consider using a washer fluid that is a winter blend. These types are made to resist freezing despite the cold weather.
8. Fix Outstanding Issues or Problems
Do not wait until the last minute before you address any outstanding maintenance. Otherwise, you will likely suffer a mechanical breakdown in the dead of the winter.
Even small problems need to be addressed before they snowball into something painfully big. You might also want to consider placing accessories for the season. Perhaps visit a tint shop to have your car's windows retinted or make practical upgrades like floor mats and seat covers.
With these fall season car maintenance tips, you will make sure your vehicle stays in top condition.