What better way to beat the heat than by visiting some of the best natural and man-made swimming pools in the country? Take a road trip with some of your friends or family and visit the best pools in each state. This list includes the best waterparks, natural swimming holes, and luxury pools.
1. Discovery Cove, Florida
If you're a fan of marine life, you'll definitely enjoy Discover Cove in Orlando, Florida. Global Brands Magazine labeled them as the Best Marine Mammal Park in the United States for 2020. It was also voted #1 in USA Today's 10Best Most Romantic Things to Do in Orlando this 2021. Get to swim with dolphins, otters, marmosets, and all kinds of tropical fish.
2. Cowabunga Bay Waterpark, Utah
Cowabunga Bay Waterpark in Draper, Utah is a 60s-themed waterpark. It is said to be the home of the world's largest water playground. It has 12 levels of connecting tunnels and bridges, 300 interactive water toys, 11 water slides, a kid's cove, and its very own beach. One of their slides is 1,000 feet long and full of twists and turns. But don't worry, this is all safe, no pool is too deep.
3. Sandcastle Waterpark, Pittsburgh
In Sandcastle Waterpark they've got rides, slides, waves, rivers, and pools. It's an all-around family-friendly waterpark. You can choose to relax in The River or have an exciting ride on the Boardwalk Blasters, a 25-foot-long slide with a thrilling 7-foot free fall.
4. Noah's Ark Waterpark, Wisconsin
Noah's Ark Waterpark is recognized as America's largest waterpark. It spans 70 acres, all full of thrilling rides, wave pools, and slides. They recently opened a new attraction in 2018 called the Raja. It's the world's largest King Cobra, six stories high with 335 feet of twists and turns, and a sudden 37-foot plunge. You could go as fast as 32mph on this bad boy.
5. Water World, Colorado
Looking for more attractions? Water World has over 50 of them. Including a thrilling Voyage to the Center of the Earth. Time travel to the Jurassic era and experience this heart-racing water ride and encounter some dinosaurs.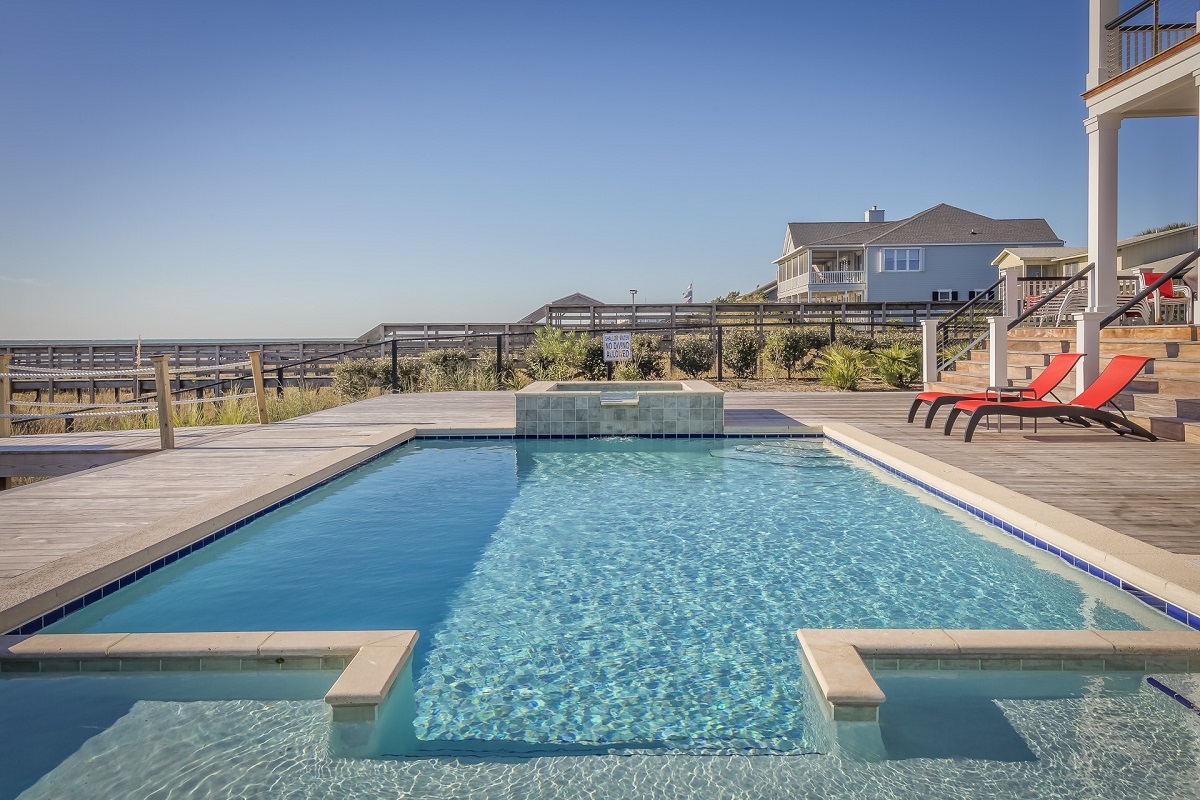 6. Tallulah Gorge, Georgia
Not a fan of commercial areas? No worries, we've included natural swimming pools in this list for the nature-lovers out there. Tallulah Gorge in Georgia is one of them. The Tallulah River is two miles long and cuts through the Tallulah Dome, one of America's most impressive canyons. If you hike up there early enough, you just might be one of the lucky 100 that gets to climb down to the gorge floor. That's where you find the swimming hole and the sliding waterfall. Take note, only 100 permits are given out in a day.
7. Devil's Bathtub, Virginia
Another gorgeous swimming hole gifted to us by nature is Virginia's Devil's Bathtub. Don't be scared by its name. The only reason it's called this is that you have to hike through the Devil's Fork Loop Trail which is known to be one challenging trail. It's approximately seven miles long and the water at the Devil's Bathtub is known to be really cold. But it's definitely worth it once you see its ethereal crystalline water.
8. Slide Rock State Park, Arizona
Relax and bask in the sun in Sedona's Slide Rock State Park. It's landed the Travel Channel's list of 10 Top Swimming Holes in the United States. Slide Rock is a great place for sliding because the algae on the rocks make for a great slippery slope that you can slide on.
9. Opal Creek, Oregon
Experience hiking through ancient rainforest and swim inside a pristine emerald creek. Opal Creek is home to several waterfalls and swimming holes. It's a great camping site too. So if you want to stay a couple days and just enjoy nature, definitely visit Opal Creek.
10. Four Seasons Resort Hualalai, Hawaii
Don't want to be somewhere too crowded, but also not a fan of hiking in the outdoors? Visit one of Hawaii's most luxurious resorts, The Four Seasons Resort Hualalai. It's still the outdoors, but you won't have to suffer the consequences of the outdoors such as bugs or extreme weather conditions. Just relax and swim in their 1.8-million-gallon pool built into the island's volcanic rock. Which also has 4,000 tropical fish in it that you can swim with.
11. Amangani, Wyoming
Want to swim in the middle of winter? Jacksonville, Wyoming's luxury hotel, Amangani, allows you to do just that. Their 115-foot pool is kept warm during the winter. So you get to swim and relax while overlooking the snow-covered Teton range. Imagine being able to watch the sunset behind the mountain range while relaxing in a steamy pool.
12. The Golden Nugget, Las Vegas
Another luxurious three-story pool can be found in The Golden Nugget in Las Vegas along the famous Freemont Street. Their main attraction? A 30 feet slide that passes through a shark tank full of all kinds of fish and sharks, including the Black-Tipped shark, Sand Tiger, and Zebra shark.
Whether you want to experience a thrill, be one with nature, or relax in a luxury hotel. This list provides you with the best pools in the country. If you're planning to go on a road trip you should visit at least one of these locations.