The COVID-19 pandemic might have some of us feeling stuck with nowhere to go. With many reluctant to take international trips, road trips have become the next best thing for people itching to travel. There's nothing quite like taking a long road trip to get away from the stresses of life, but they're not cheap. From gas to food to lodging, you could burn your whole budget in a matter of days if you're not careful.
If you've already decided on your car, route, and budget, all that's left to worry about is where you'll be staying. The good news is, there are many different kinds of lodging all across the country, from luxury hotels to motels and even campsites! But how do you decide?
Booking Ahead vs. Booking Onsite
The first thing you'll have to think about is whether you want to book ahead or book when you get to each stop. If you're traveling on a fixed route or just want a taste of luxury for a night, it's best to book ahead. On the other hand, if you want to spice things up with a little adventure and don't mind checking around the area for a place to stay, you're likely to find a decent hotel room. Just be aware that you're going to have to be more flexible about location and amenities.
What are Your Options?
Once you've figured out whether to book ahead or onsite, the next thing to consider is what kind of place you'd like to stay in. Depending on your budget and your previous choice, there are different kinds of lodgings available for every kind of traveler:
Hotels
When you think of the word "hotel", luxury hotels might be the first thing to pop up in your head. However, there are two kinds of hotels: full-service and limited-service. Luxury hotels are full-service meaning that these have larger facilities and more amenities. Full-service hotels also have more to offer travelers like newspaper delivery, security guards, room service, and a shuttle usually made for airport transfers.
Limited-service hotels on the other hand offer fewer services and just provide the necessities that a traveler might need. The prior usually caters to leisure travelers who are on vacation while the latter caters to business travelers and people who just need a place to stay for a night.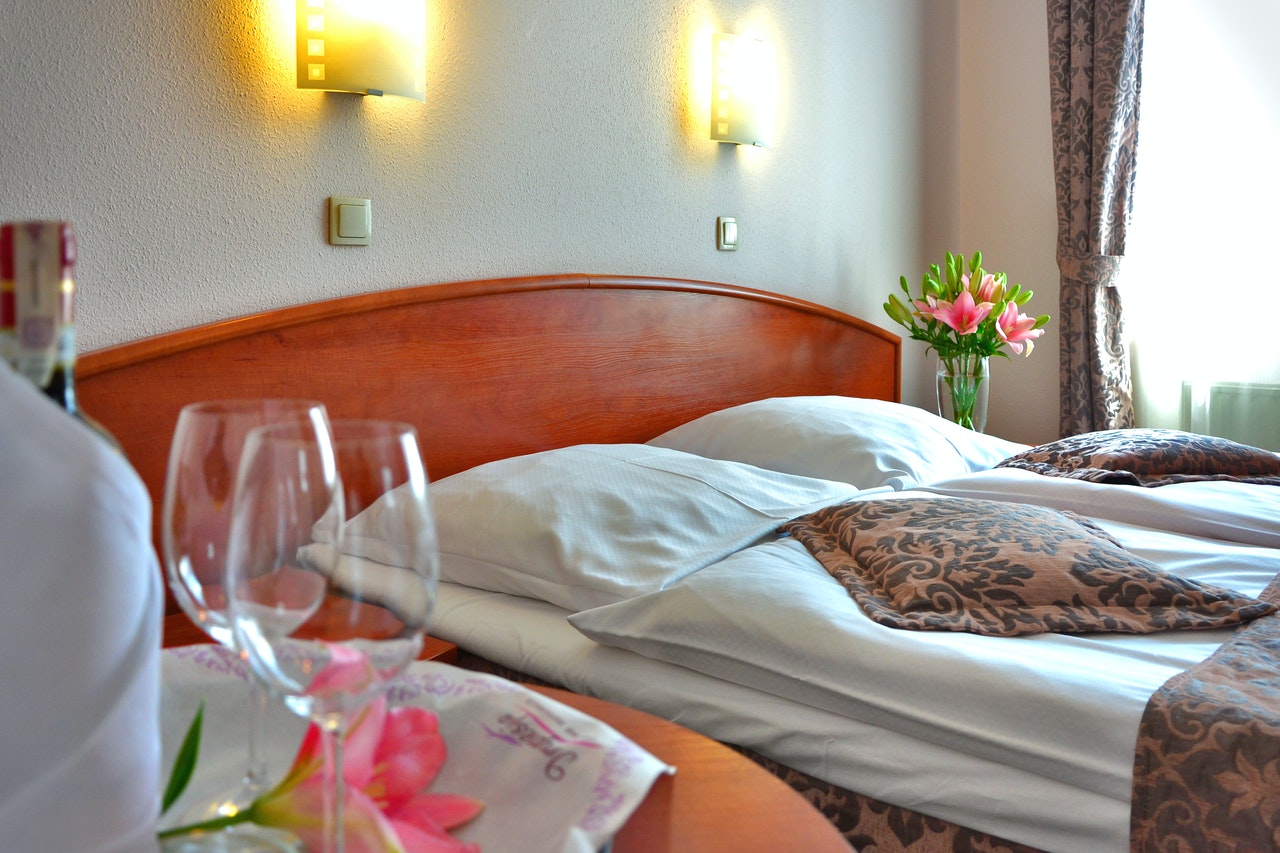 Motels
Short for motor hotels, motels are roadside hotels that were originally intended for motorists to stay in. These are often located near major highways and generally have a one or two-floor layout. Guest can also directly access their rooms from their parking spot in a motel. Just like limited-service hotels, motels don't have a lot of staff, and sometimes even the receptionists are in charge of housekeeping. Depending on the place, motels can also have amenities like swimming pools and might even offer a light breakfast.
Hostels
Hostels are a great alternative to hotels. These can cater to all types of travelers, but younger travelers looking for a budget-friendly place to stay often choose this type of accommodation. If you're looking for a backpack-style of lodging, this might be the one for you. There are many different hostels across the country, with prices for a shared room starting at $15 a night.
This type of accommodation also focuses on a shared social experience, meaning that there are many shared areas. Depending on which hostel you decide to stay in, there may be a common room for guests to get together and chat, a shared bathroom, and even a shared kitchen for those who want to whip up a meal.
Airbnbs
Airbnb takes a more unique approach to accommodation in that people can rent out their homes to travelers looking for a place to stay in a certain area. It's a good alternative for travelers who aren't comfortable with serviced lodging and want a more "feel-at-home" experience during their trip. Just like any lodging option, it has its pros and cons. With Airbnbs, you have a variety of places to choose from depending on your budget and preference, and reserving a place is as easy as pressing a button. Some hosts even offer classes or sightseeing trips if you'll be staying longer than a day.
However, with anything you see online, what you see might not be what you get. Unlike making your bookings at a hotel where you're assured that you'll be getting what you see on the website, hosts create their own listings. This means that some hosts can fudge the details on their listing. For example, the listing could say that the house comes with a furnace but when you get there, the furnace is broken.
On warmer days, this would be fine but what do you when your host isn't answering and it's 50 degrees out? Unless you decide to leave your Airbnb and find another place to stay, it'd be up to you to have the furnace repaired.
If you're willing to take the risk to save a few dollars, then go for it.
Cabins and Yurts
If you like the rustic vibe, facilities like cabins and yurts are a good choice. Unlike motels and hotels, you'll have to book these in advance, especially if you're planning to arrive during the busy season. Since they're not as widespread as hotels, motels, or hostels, you'll have to do a bit of research and check if the areas you'll be visiting have them. It's also important to remember that you'll likely need to come with your own bedding, food, and cooking supplies.
Fire Lookout Towers
A more unique option for road trippers looking for a place to stay, fire lookout towers give you an experience unlike any other. If you love nature, bring your binoculars and cameras because the views from these towers are amazing. Lookouts were originally built to spot fires in the forest but some of these have been converted into cabins with a 360-degree view. If you're planning on renting out a lookout tower, just remember that these are usually isolated and don't have easy access to services. Just like cabins and yurts, you're also expected to bring your own food, bedding, and other supplies.
No matter how much your budget is or how long you plan to stay in an area, there is a place to stay for every kind of traveler. Take these tips and use them as a guide for a fun and budget-friendly road trip! ;