Is it wrong to look for exciting things to do and new things to learn once summer arrives? No. If you ask us, the summer season is always just around the corner. If you haven't mapped out your plans yet, that's perfect. We've got a few things you might want to add to your list.
Warm, sunny days call for spending your time in a body of water, so sports and leisure activities that involve the sea, rivers, or oceans are some of the most popular. If you wish to spend your summer days exploring nature, there's something we want to introduce to you.
In this handbook, we'll teach you all the basic things you need to know about kayaking. With everything you'll learn from this, we're sure that by summertime, you'd be able to handle the paddle.
What Is Kayaking?
Never tried watersports before? You're surely missing out on quite a lot. Kayaking is one of the most exciting activities that any thrill-seeker out there would enjoy. And if you have no idea how you can join in on the fun, here's what you need to know.
Kayaking is a water activity named after the small boat used in this sport, the kayak. For maneuvering, the kayaker uses a paddle with blades on each end. The kayak usually only fits one person, and the deck covers the legs of the person riding it. Still, you will find models big enough to accommodate up to three people.
There are lots of activities you can do while kayaking, and you can ride it on virtually any body of water. You just have to make sure the kayak you're using can withstand the water conditions you plan to ride it in.
This sport only requires a few pieces of equipment, too. And because of the wide range of activities you can try on a kayak, it's a great sport for both beginners and experienced outdoor enthusiasts. In short, anyone can enjoy kayaking, and learning how to do it is relatively easy.
You can begin with recreational kayaking if you wish to just get the feel of getting aboard the kayak and maneuvering it above the water. On the other hand, you can also try kayak fishing which is perfect for those who prefer camping near a body of water.
However, for anyone who wants to get the most thrilling experience, they should learn more about whitewater kayaking. This involves speeding down a river or a stream while avoiding hurdles on both sides of the kayak.
Where to Go Kayaking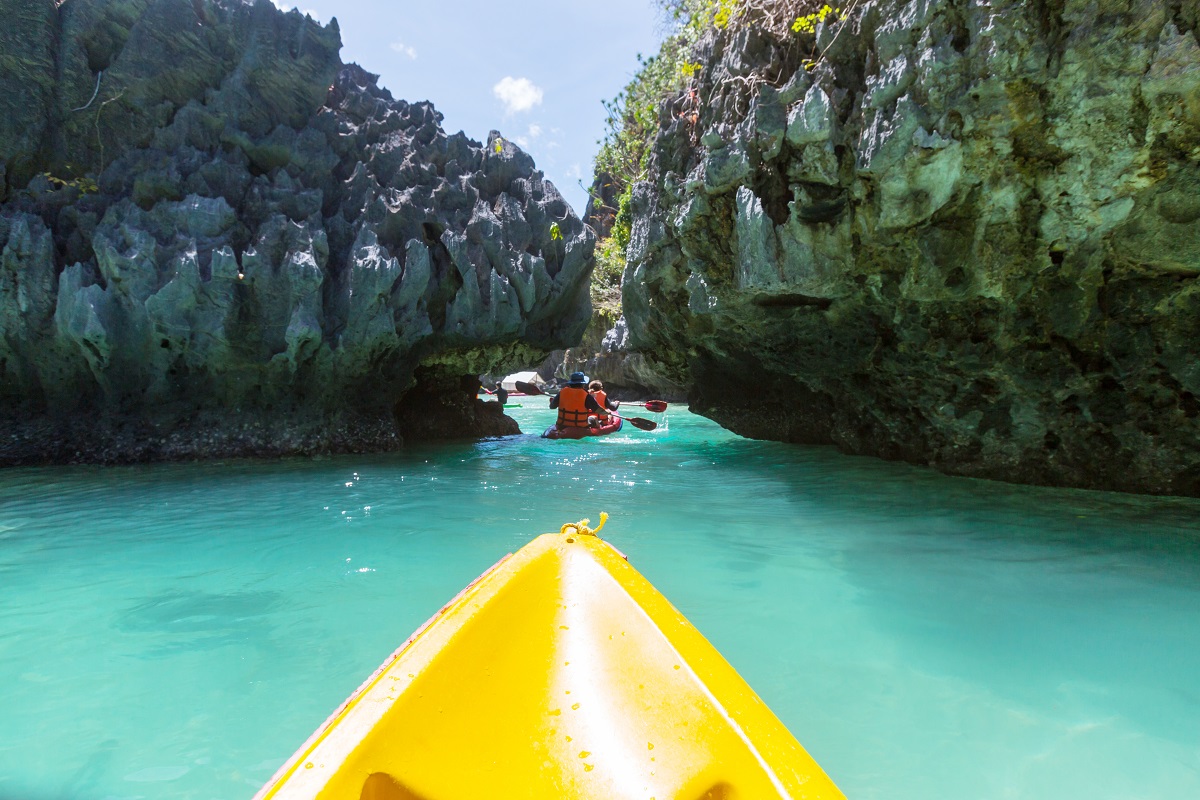 Feel like you're ready for this adventure? Now is as good a time as any to determine where you can actually practice your skills. To help with that, below are some of the best places to go kayaking.
Greenland
One of the main countries that indulge in this sport is Greenland. That's probably why you can find hundreds or thousands of kayaking spots all over the country. What makes this even better is that multiple companies have kayak rental businesses near these spots, making it easier to gain access to a kayak.
Philippines
This country has 7,107 islands, and if that is not a testament to how many beautiful bodies of water this archipelago is home to, we don't know what is. The Philippines boasts tall waterfalls, complex river systems, and crystal-clear seas that would be perfect for kayaking. Additionally, this country also has the most affordable amenities and adventures that you might want to try.
We're certain that if you go to this country for kayaking, you'll find yourself trying out all the other things it can offer. Make sure that you don't run out of funds! It would be helpful if your family were well-versed in sending money anywhere in the Phillippines to ensure that the fun never stops!
Maldives
Probably the most beautiful beaches in the world are found in the Maldives. This is all the more reason why you should try kayaking in this country. The crystal-clear water would let you see the bottom of the ocean while you're on the kayak. You will also find lots of luxurious hotels you can book to level up your stay.
Slovenia
Slovenia's best kayaking spot is the Soča River, which is between the Julian Alps and Trenta Valley. This natural wonder is a wide stretch of water with different intensities, which is why it's popular for all sorts of kayak activities.
If you want to go kayak fishing today and then try whitewater kayaking the following morning, Slovenia is the place to be.
Summer is fast approaching, but even without the need to beat the heat, there will always be a reason to go kayaking. This sport is rather easy to learn and even easier to enjoy. And when you've developed the necessary skills, you can also improve your kayaking experience.